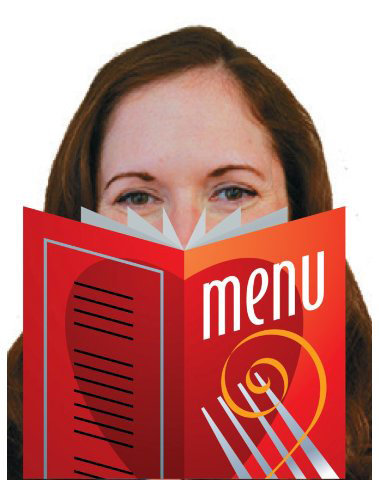 It was a rainy afternoon when I met a girlfriend for lunch at The Old Bag of Nails Pub. I'd never been there before and was surprised by the extremely limited available parking. Normally, I'm not a parking complainer. When I need to use a kiosk downtown, I figure it out. (Or I accept the parking ticket and pay the fee.) If I have to park a few blocks away from my destination and walk, I consider it a great opportunity to stretch my legs. My point is, when I hear people complain ad nauseam about the parking in Lansing, I don't buy in.
The parking situation at Old Bag of Nails, though, is its own particular form of hell, especially in the midst of a torrential downpour. It appears that once the small number of spots is full, there are no alternatives. I'm sure the restaurant is banking on its proximity to the new apartments encircling most of the building and a large number of students being within walking distance, but for people driving in, it can be tricky.
For lunch, I chose the All-You-Can-Eat Soup & Salad ($14). I clarified that this option would allow me to try as many of the soups and salads as I wanted because your girl loves both. I started with the New England Clam Chowder and Spinach Salad in round one. The chowder was unremarkable. If you told me it came from a can, I wouldn't be surprised. It wasn't offensive, but it wasn't special. The Spinach Salad was topped with sliced mushrooms and hard-boiled egg, crumbled bacon and red onion. I welcomed the mushrooms, as I don't frequently see them as a salad topper, but the rest was what you'd expect.
For round two, I ordered the Caesar Salad and Broccoli Cheddar Soup. The Caesar was cloyingly sweet and almost inedible. Unexpectedly, so was the soup.
My friend had the Shrimp Po'boy ($14), which she hilariously ate with a knife and fork because it was so unwieldy. Her fries were completely unseasoned, and I was happy I hadn't ordered my own because I would've eaten them out of habit and wouldn't have really enjoyed them. It's a good thing the gossip was hot because lunch left us cold.
On a return visit, the entire She Ate family arrived for an early dinner at 4:30 p.m. and put in a fast order for the fried pickle spears as an appetizer. Mr. She Ate was excited to try the spears since we both love fried pickles but normally see pickle chips on menus. Alas, the restaurant was out of pickle spears, so we tried the Jumbo Bavarian Pretzel ($10) instead. Again, the best description I can give this item is that it was what you would expect. Soft, salty, carb-filled. Mr. She Ate liked the beer cheese dipping sauce, but I turned my attention away from the pretzel and back to teaching my son how to blow the paper off the end of his straw.
For my entrée, I followed the advice of the crowd and tried the Famous Fish & Chips ($16). If I were to try it again, which I won't, I would have it blackened or Eddie Style (spicy batter) because this fish was entirely devoid of flavor. The steak fries were much more offensive — the tough texture suggested they'd been prepared hours earlier and then reheated in a microwave. Mr. She Ate had the po'boy, and although he's never met a sandwich he didn't like, he would testify to the fact that this one was just OK.
The babies gobbled up fries and chicken tenders, but they're 5 and 3 years old and don't have much of a palate yet. We finished the meal with the bread pudding ($6) because I felt we had to. The bread pudding at Soup Spoon Café is my gold standard, but this version left much to be desired. The sauce was sweet but had no other flavor profile. The pudding itself was cold, and I needed it to be warm so the scoop of ice cream could melt on top. At least the vanilla ice cream was good.